Alison Waterhouse - Educational Psychotherapist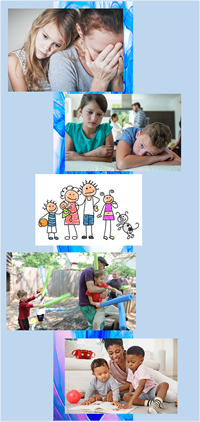 Parent Coaching can be done face to face or via zoom. It is a way of supporting parents and carers manage the ups and downs of being parents and meet the challenges that children may bring. Parent Coaching is a way of working which aims to enable the individual to improve their parenting skills and abilities. The coaching focuses on the 'here and now' rather than on the distant past or future. In the coaching sessions parents bring the challenges they face and with my help think and explore how these may be overcome.
During these sessions I help parents to thinking about the reasons for the behaviours, how children may experience situations. By exploring these areas we are then able to identify ways in which they can help their children develop the skills and strategies needed to deal with situations in a more positive way. Sessions last for an hour and gradually build on the skills, knowledge and experiences parents have already developed. Coaching sessions can be really supportive for many parents but can be especially useful for parents of children who are having to manage a range of differences such as Autism, dyspraxia, dyslexia or ADHD, OCD or general anxiety difficulties.
Parents comments:
Alison has given us such a clear perspective on dealing with some of the parental challenges we have been facing. Not only is she hugely knowledgeable in her field of child psychoanalysis, she is also warm and kind, which is comforting when in the midst of difficult times. Even more importantly, as well as offering support to us as parents, she really has the interest of our children at heart.
I have had 6 months of weekly parent coaching with Alison to help move through school refusal and acute anxiety with my 12yr old and Intense behaviour issues with my 9 year old. Alison's has brought steady support, insights, recommendations, patience, a wealth of experience based knowledge and uncanny intuition. I am relieved to say that parenting has become so much easier, my kids are far more secure, happy and stable as a result and we are all so much better connected. I cannot recommend having Alison's support enough, it's money really well invested with an effect that will benefit us as a family indefinitely. I am deeply great full. HD.

Video Interactive Guidance is a very specialised way of supporting parents manage the many differences and difficulties they may encounter with children at home. This comprises of a group of 3 sessions forming one cycle. It would be expected to undertake 3 cycles over the space of 3-6 months.
The initial meeting is about 1.5 hours and looks at the areas that are causing most concern. During this time i will support parents explore the challenging areas and agree positive and manageable targets to work towards. Follwing the intial meeting I visit the home and record the parent child interactions. This normally takes about and hour and a half. Once this has been done I work on editing the evidence to highlight the times when positive interactions took place - there are always far more moments than parents think. These positive moments are then shared and discussed in a follow up visit which normally takes about one and a half hours. During this visit I help parents focus on the positive times when they and their children were able to work and interact well together rather than the negative ruptures. Because we focus on the positive interactions, using the video clips, I am able to help parents hold onto those ways of working and the strategies they used and therefore both develop more of them as well as build on them.